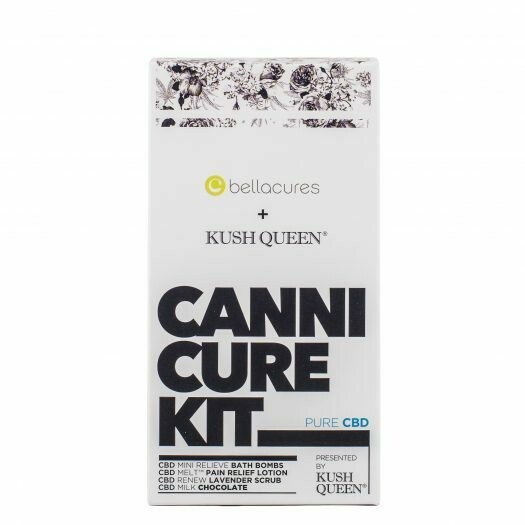 Kush Queen - Canni Cure Kit
SKU 00055
Product Details
Bring a luxury spa experience into your home.
Pamper yourself with a mani/pedi infused with pure CBD to deepen your relaxation, and replenish your skin.
Includes:
2 CBD Mini Relieve Bath Bombs

Ingredients: 100% Organic Essential oils (Clove,Birch, Rosemary, Black Pepper & Coriander), Cannabidiol, Sodium Bicarbonate, Magnesium sulfate, Citric Acid, Extra Virgin Olive Oil, FD&C Color

1 CBD Renew Scrub

Ingredients: Organic Cane Sugar, Shea Butter, Organic Jojoba Oil, Organic Lavender Flower Oil, Rosehip Seed Oil, Organic Borage Seed Oil, Organic Evening Primrose, Vitamin E, Sunflower Seed Oil, Neroli Oil

1 CBD Melt Pain Relieve Lotion

Ingredients: Hemp Extract, Organic Aloe Leaf Juice, Meadowfoam Seed Oil, Menthol Crystals, Capsicum Fruit Oleoresin, White Camphor Bark Oil, Black Pepper Oil, Roman Chamomile Flower Oil, German Chamomile Flower Oil, Citronella Oil, Eucalyptus Leaf Oil, Helichrysum Flower Oil, Ginger Root Oil, Pink Grapefruit Peel Oil, Juniper Berry Oil, Peppermint Oil, Pine Needle Oil, Ravensara Oil, Rosemary Leaf Oil, Spearmint Oil, Wild Oregano Oil, Glycerin, Witch Hazel Water, Organic Alcohol, Phenoxyethanol, Carbomer, Triethanolamine, Tetrasodium Glutamate, Diacetate.
*All products contain less than 0.3% THC.

Save this product for later